Kenya Institute Of Management (KIM) Exam Results September 2023 and KIM Exam Results 2023 March month. Students can www.kim.ac.ke exams results in the web-portal https://www.kim.ac.ke/exams/.
September 2023 KIM Exams Results
The Kenya Institute of Management through its School of Management has over the years offered professional training in Management. This has been done through a programme of different Diplomas tailored to meet the needs of the various management specializations practiced in the country.
With carefully developed training curricula, modern facilities and learning resources, you now have an opportunity to join thousands of managers and leaders who are shaping the economic destiny of this nation across the counties. Being a world-class management trainer, KIM has been ranked number one among business schools in Kenya and among top five in Africa at the latest ranking of the world's foremost business schools.
To check KIM Exams Results 2023 September 2023 and March 2023, candidates must follow the following steps
Step 1: Open your computer browser or mobile browser.
Step 2: Go to address bar type: www.kim.ac.ke/exams/
Step 3: Please enter your Admission Number
Step 4: SUBMIT to view your examination results.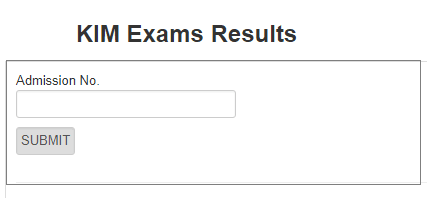 KIM Exam Results via SMS
If you do not have an Internet connection you may also check the KIM Exam Results September, KIM Exam Result March via SMS.
Go write SMS
Type your <<Admission Number>> and Send it to 21117
Address:
KIM Head Office
Luther Plaza, 2nd and 3rd Floor,
Uhuru Highway roundabout / Nyerere Road
O. Box 43706, 00100 Nairobi
Mobile: 254719054101
kim@kim.ac.ke or feedback@kim.ac.ke
Website https://www.kim.ac.ke/