How to check my results online? this is most common questions comes to all the students before checking any examination results online. Before you started to checking the examination results online, you need to make sure whether the exam results are published not.
How to check my results online?
I would suggest you check our website Recently Published Results page and make sure results is published. Now you need to visit the official results web portal, to check your results. The following form is a sample form to demonstrate How to check my results online?
Step 1 : visit official web portal eg. www.resultscouncil.com
Step 2 : Find the "Result" in Main Menu and Click on "Search" from submenu.
Step 3 : The "Search Result" window will appear shown in below.
Step 4: Select your "Year" for results for e.g. 2016/2017/2019 e.t.c.
Step 5: Select "Exam Type" for e.g. "Primary School" or "High School" or Secondary School.
Step 6: Enter Your "candidates number" or "Examination Number "
Final Step: Click on "Request" button.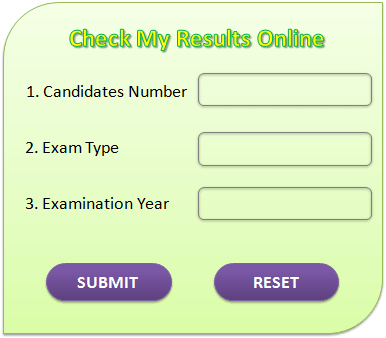 Required Information
To check the results online candidates required information like "candidates number" or "Examination Number. If you forget this number you may check your admission card or exam card for school code or Examination Number.  For future use, students should make couple copy the documents which allow them to sit for the examination.
Candidates also opt for our free services to get a fast results alert. We have made a couple of youtube videos for students to check results.
We covered countries like as follows including their national board examination.