Checking JAMB Result 2023: How to upload waec result to jamb? The Joint Admissions and Matriculations Board (JAMB) is a Nigerian entrance examination board for tertiary-level institutions. JAMB conducts its examinations (the United Kingdom, Saudi Arabia, South Africa, the Republic of Benin, Cameroun and Ghana). JAMB Portal 2023: The Official Portal of J.A.M.B Nigeria is www.jamb.gov.ng and the Joint Admissions and Matriculation Board's official portal is www.jamb.org.ng.

Checking JAMB Result 2023
The Joint Admissions and Matriculations Board (JAMB) of Nigeria allows students to check JAMB result without the use of a scratch card and it's free to use.  Students can check jamb result online just 24 hours after their exams date once the 2023 JAMB Result is out. Follow the simple steps below to check your 2023 UTME result online.
Open your laptop or mobile with an Internet connection.
Open your browser and type "www.jamb.org.ng"
Check for "Check 2023 UTME result"
Login with your Email and Password. (JAMB Profile 2023)
In the Left sidebar Click on 'Result Notification from the list of services,  "UTME Main Examination Result Notification".
 Click on it to access your JAMB score.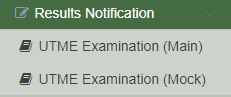 Jamb 2023 CBT Result
Candidates who appeared for JAMB CBT (Computer Based Test) conducted online at various centers in Nigeria. Students of the CBT exam can follow the same way to check the result. Jamb CBT Result looks as follows.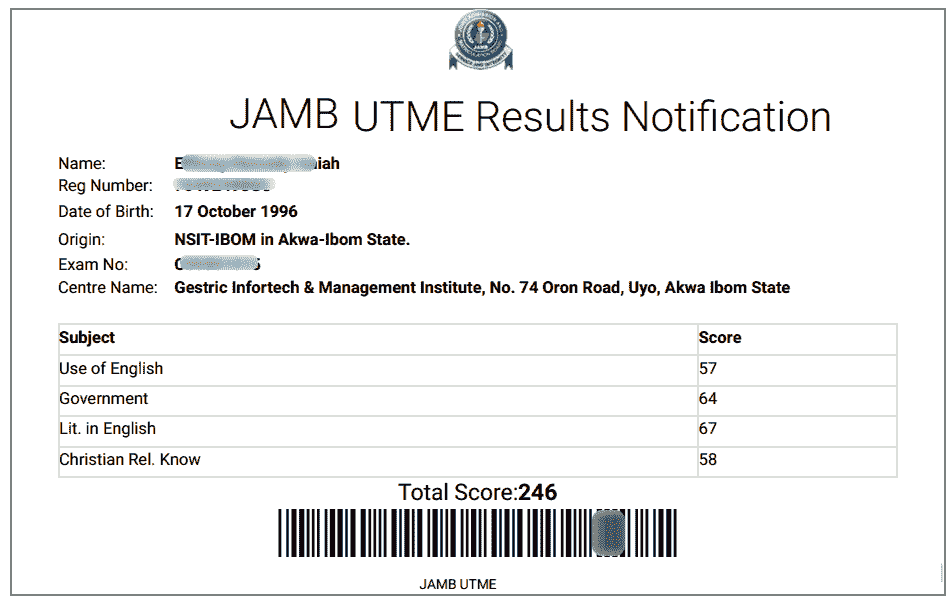 How to check 2023 jamb result
The Joint Admissions and Matriculations Board (JAMB) of Nigeria also allow candidates to JAMB Print Result Slip.  This allows candidates to request for printing of the result slip. Price:₦1,000. You may also want to print your result. If so, follow the steps below.
You shall be required to create a profile via the Sign Up (New User) Page if you are a new user. For existing users, simply type in your login details. To create your profile, you will provide your valid email address, surname, first name, Mobile No, State, and LGA of Origin and password, then click on the Sign-Up button. Each candidate is entitled to only one profile.
You MUST pay with your JAMB account created on this platform. Paying via another account will render your required service tied to the paying account.
Once payment is completed, you will be asked to provide the following:
a. Year of Exam and
b. JAMB Registration Number.

After entering the information correctly, you can now print the Result Slip as shown on your screen.
How to check 2023 jamb result online Video:
If you wanted to check JAMB Result 2023 online, then we have made an online JAMB result checker 2023/2024 system for you. When the jamb results is out or not? find your answer.

Help and Support

JAMB NATIONAL HEADQUATERS
Bwari, ABUJA
P.M.B. 189, Garki, Abuja,
Nigeria.
www.jamb.org.ng
www.jamb.gov.ng
Telephone: +2347055520289 +2348188840369 +2348123658955